American Art Archives (AAA) is meant to:
Help preserve the memory of the great illustrators and their works.
Give visitors a chance to experience the kind of art that people of the last century experienced virtually every day.
Provide an outlet for you fans of illustration art where you can contribute bio information, corrections (we do make mistakes), gallery ideas and artwork, articles on artists, trends, and techniques, upcoming events you want to promote, whatever else you can think of.
I soon found out that I wasn't necessarily scanning and cleaning up just a print from the past. In most cases, the original artwork was GONE: thrown out, burned up, left to mold and rot, lost in a fire, lost who knows where. GONE. Illustration art wasn't meant to be kept. It was produced, printed, sold in the 10s of thousands as part of a magazine or poster or calendar, and then thrown away. Expendable.
Here's what I wrote for the first American Art Archives site:
Not much original Golden Age illustration survives; in too many cases, only a tattered magazine cover remains of an original oil or watercolor painting.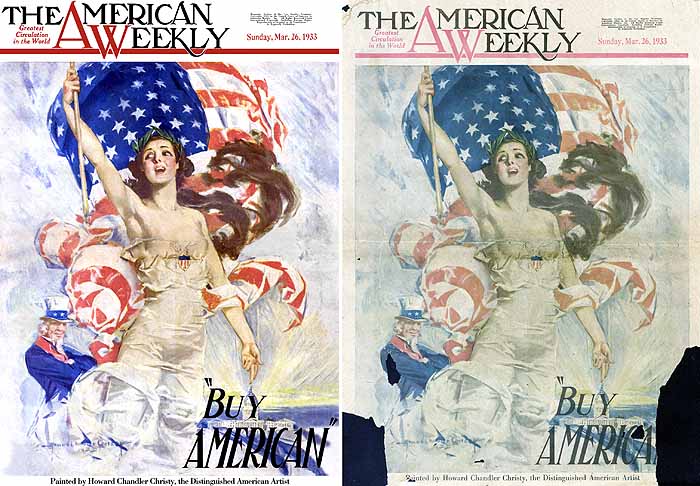 Using a Macintosh, a scanner, and Photoshop, I've brought many works back to life. I was given the Howard Chandler Christy American Weekly cover above. It's from 1926 and the years and the Northridge Earthquake took quite a toll (see right). Plus, it was printed on newsprint which had yellowed and faded over the decades. I was able to bring back the original colors, fill in the holes and tears, and replace missing text and elements (see left).
Another example. The Hamilton King Theatre Magazine cover below shows 80 years of storage, dirt, bugs, and marking pens. The revived version is at right.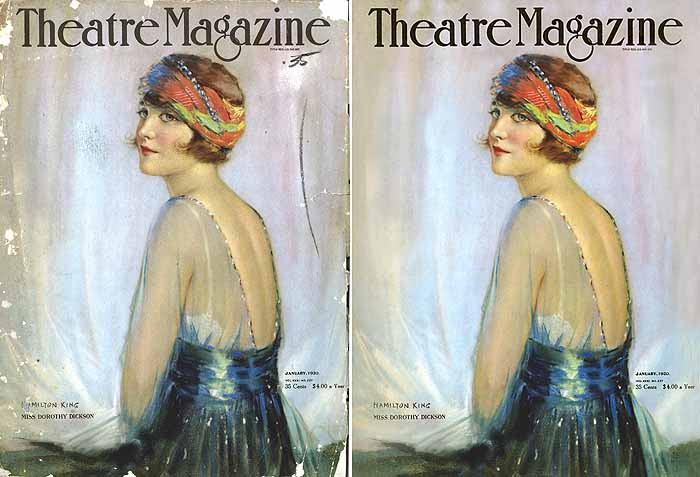 But Enough about Me: American Art Archives and YOU
My goal is to get as many people involved with this site as possible: collectors, former models, current and former illustrators, relatives, anyone who can shed light on the women and men who produced thousands of pieces of artwork, too many of which are now gone, but which must be remembered and at least preserved digitally for future generations.
Many of those I met through this venture about illustration art have been collecting, on average, about 35 years (!). I've only been doing it since 1998, so I'm a newbie just like most of you visitors to this site. I'm hoping there are many out there who can help.
But if you can't help, at least enjoy. You'll be amazed at what you find here.
For information on submissions, see The Archives Need You.